First Drive - 2022 Polestar 2 EV
Community
Sep 09, 2021
by

Mathew Guy
wheels.ca
With most countries - Canada included - running headlong into a future which does not include the sale of new gasoline-powered vehicles, it's no surprise to see a number of fresh players in the electric vehicle market. After setting up shop in key Canadian markets, the Polestar brand now feels it is ready for primetime in this country.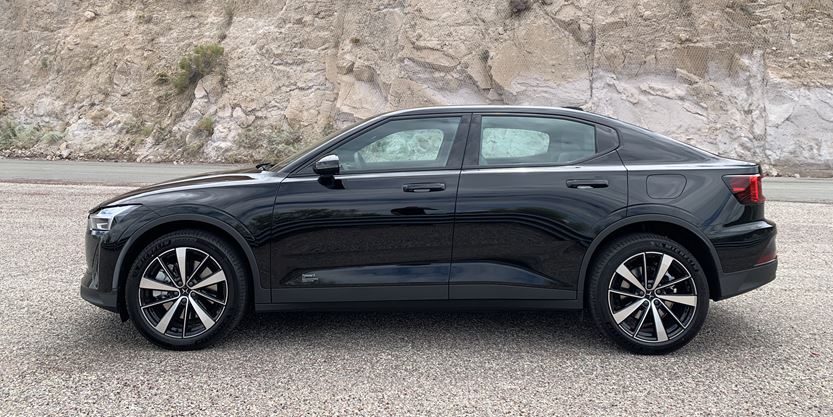 Unfamiliar with the name? Don't worry, you're not alone. The brand was launched in October 2017, with its name selected to represent a 'guiding star' within the Volvo group. That's right, like so many other new brands before it - Lexus, Infiniti, Acura - Polestar is technically an offshoot of a well-established company and enjoys a deep well of engineering expertise. In conversation with Wheels, Polestar reps referred to Volvo as their 'sister brand' and credited them with putting the wind in their sails needed to launch new product.
First out of the all-electric gate is the Polestar 2, a compact EV car which casts roughly the same footprint as a Tesla Model 3. It looks larger than that, to your author's jaundiced eye, thanks to chunkier styling decisions than anything out of Palo Alto. While it might not be obvious at first blush, the Polestar 2 is a hatchback, one whose cargo area is nearly as commodious in practical terms as most compact crossover-style vehicles. By the way, Polestar is working on one of those popular body styles as we speak. Called the Polestar 3, we expect to see it next year.
But we're here to drive the Polestar 2. Presented last year as a 408 horsepower dual-motor model, the 2022 variant sees some important tweaks, not the least of which is the introduction of a single-motor option, good for 231 all-electric ponies and priced in Canada at $49,900. This price point, a solid $7,000 less than the dual-motor trim, permits it to qualify for certain example of government largesse, though not all incentives will apply. Check your provincial programs before pulling the trigger.
With electric motors bookending a 78kWh battery pack that's good for a range of roughly 400 kilometres, about 25km less than the single-motor car, the all-wheel drive Polestar 2 Dual Motor had no trouble launching itself up the mountainous region surrounding Santa Fe. Polestar estimates a 0-100Km/h acceleration time of less than five seconds. Punching the pedal produced instant thrust, as is typical of an EV since all its power is on tap at zero r.p.m., and its myriad of driving modes played an important role in the overall driving experience. Setting the steering feel to 'firm' produced the type of weighted effort preferred by anyone with gasoline in their veins, while 'light' was ideal for fingertip maneuvering at parking lot speeds.
Polestar 2 is capable of one-pedal driving, a feature of EV motoring in which a car aggressively slows itself when the driver eases off the accelerator pedal. This helps harvest energy for battery regeneration purposes, and the Polestar's most forceful setting from its trio of options slowed the car as if a metal anchor had been dropped in its wake. Practice with this feature before taking Miss Daisy to church, okay?
Polestar offers several option packages on both the single-and dual-motor models, including a Performance Pack on the latter which brings the likes of Öhlins Dual Flow Valve manually adjustable dampers (you gotta get under the car to change their settings) and Brembos which are easily identifiable by their golden trim. The irony of putting an expensive brake kit on an EV which doesn't need it (see: regenerative braking, above) is not lost on your author but they are certainly visually appealing.
Smartly, Polestar had a couple of entry-level trim cars on hand, representative of what most customers are likely to actually buy. Even at this end of the pool, Polestar 2 has an attractive interior fitted with good-looking materials such as a carbon-look trim and charcoal headlining. Its cloth seats are vegan if you care about such things, and your author actually preferred their embossed pattern compared to the more expensive leather-lined options on offer. The $5,500 Plus Pack is a smart spend of money, however, since it brings a heat pump system to more effectively warm the cabin plus niceties like heated surfaces and a panoramic roof while retaining that comfortable cloth upholstery.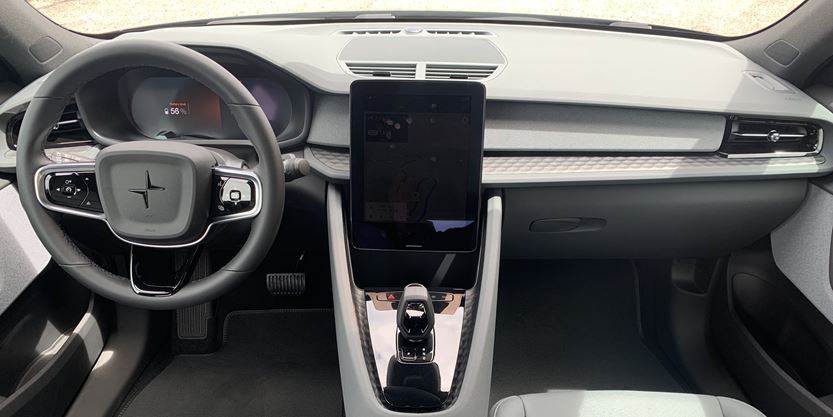 Polestar is particularly proud of its infotainment, billed as the first embedded system from Google. Its voice commands actually worked during our testing, thanks to tech from Google Assistant, and it flawlessly utilized Google maps for navigation during our drive around rural New Mexico. Like other platforms, it'll point drivers to the nearest EV charging station and estimate the amount of juice left upon arrival. It proved easy-to-use in the real world, maintaining a simplicity without going overboard on minimalism as does its cousins at Volvo. Over-the-air updates keep things on the bleeding edge, including upgrading some of last year's cars to take advantage of range improvements for the 2022 model year.
The handling characteristics described above for the dual-motor car were largely mimicked by the single-motor car, though with obviously much less forward thrust. Batteries are heavy, causing the front-wheel drive Polestar 2 to weigh in just six kilos shy of 2,000 kg; the Tesla Model 3 is about 200 kg less portly. Some of the issue stems from the fact that this car has been built on the Volvo-supplied Compact Modular Architecture, a platform which also serves as the underpinnings for vehicles with internal combustion engines such as the Volvo XC40. This also explains the 2's rather butch stance. As the brand grows, future machines from Polestar - perhaps including the forthcoming 3 crossover which will be built in America - will have a blank slate design to make the most of packaging advantages afforded by EV guts.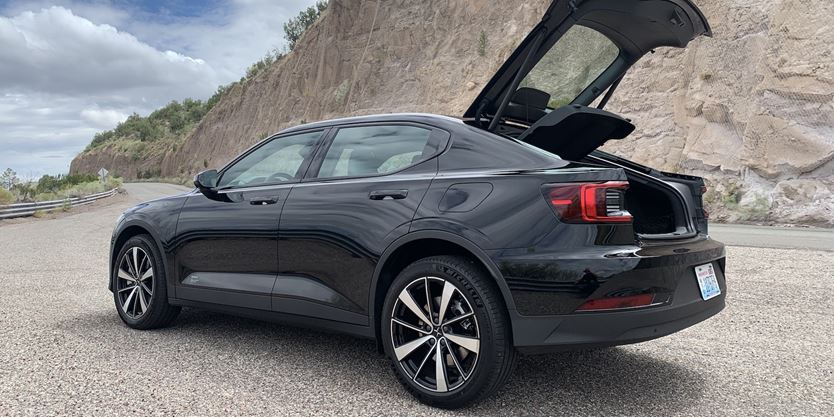 For now, Polestar is simply using the tools they have been given - and using them quite well, if our first drive of the well-crafted 2 is any indication. Still, if it's in budget, pop for the full-fat dual-motor model; giving up 25km of range in trade for 177 extra horses and twice the torque, not to mention a near 50/50 weight distribution, is worth the cash in our books.
The vehicle was provided to the writer by the automaker. Content and vehicle evaluations were not subject to approval.