Canada has never had an Indigenous woman on its currency — this provocative campaign is trying to change that
Forget the old saying that a picture's worth a thousand words. Alexandra Beals is hoping hers is good for twenty bucks.
Beals, an artist and video editor raised in Truro, N.S., is part of a campaign aiming to get an Indigenous woman represented on Canada's $20 bill; it would be the first time an Indigenous woman has been featured on any Canadian currency.
Beals and eight other Indigenous artists have each created an image of a new $20 bill, with each one featuring a different Indigenous woman to be honoured.
Beals — who now lives in Toronto — chose to feature Rita Joe, a writer and poet forced to attend residential school in Shubenacadie, N.S., for her entry in the Change The Bill campaign. (An exhibition of the nine works of art is being featured at College Street's The Local Gallery starting Wednesday).
"She's a creative like me. She went to residential school about 15 minutes away from my small hometown. Every time I drove from Truro to Halifax, I'd pass by Shubenacadie. She's a huge inspiration," said Beals of why she chose Joe, a member of the Order of Canada who died in 2007. Beals, like Joe, is of Mi'kmaq heritage, and her family is from the Acadia First Nation.
Inspiration is a big part of the Change the Bill campaign, said Irene Goodwin, an executive with the Native Women's Association of Canada.
"Some of these stories, I knew. But there were some I didn't know about, so this has been an amazing exercise for me," said Goodwin, NWAC's director of policy and programs for culture, art, youth and sport.
Change the Bill is a collaboration between NWAC and Toronto advertising agency Taxi.
With Charles becoming King upon the death of Queen Elizabeth II, Goodwin said currency is likely to get something of a makeover anyway. To honour the contributions of Indigenous women, there's no time like the present, Goodwin said.
"We saw this as an opportunity," said Goodwin.
The Bank of Canada is aware of the important symbolism of Canadian currency, said spokesperson Amelie Ferron-Craig, who pointed out that the next bill scheduled for a redesign is the $5. Four of the eight people who are candidates to be featured on the bill are Indigenous, including one woman, Pitseolak Ashoona, an Inuit artist.
"The Bank is keenly aware of the importance of Indigenous representation as part of Canada's numismatic heritage, as illustrated by the visual elements appearing on several recent notes," said Ferron-Craig, who pointed to the commemorative Canada 150 $10 bill, which features a portrait of Akay-na-muka (James Gladstone), Canada's first senator of First Nations origin.
Beals is hopeful that Change the Bill will lead to concrete change and give an Indigenous woman on Canadian currency. Even if it doesn't, it's a campaign that's still worth pursuing.
"To have an Indigenous woman on the bill would mean so much," said Beals. "I don't know if this project will lead to that, but at least it will start a conversation, which would be pretty cool."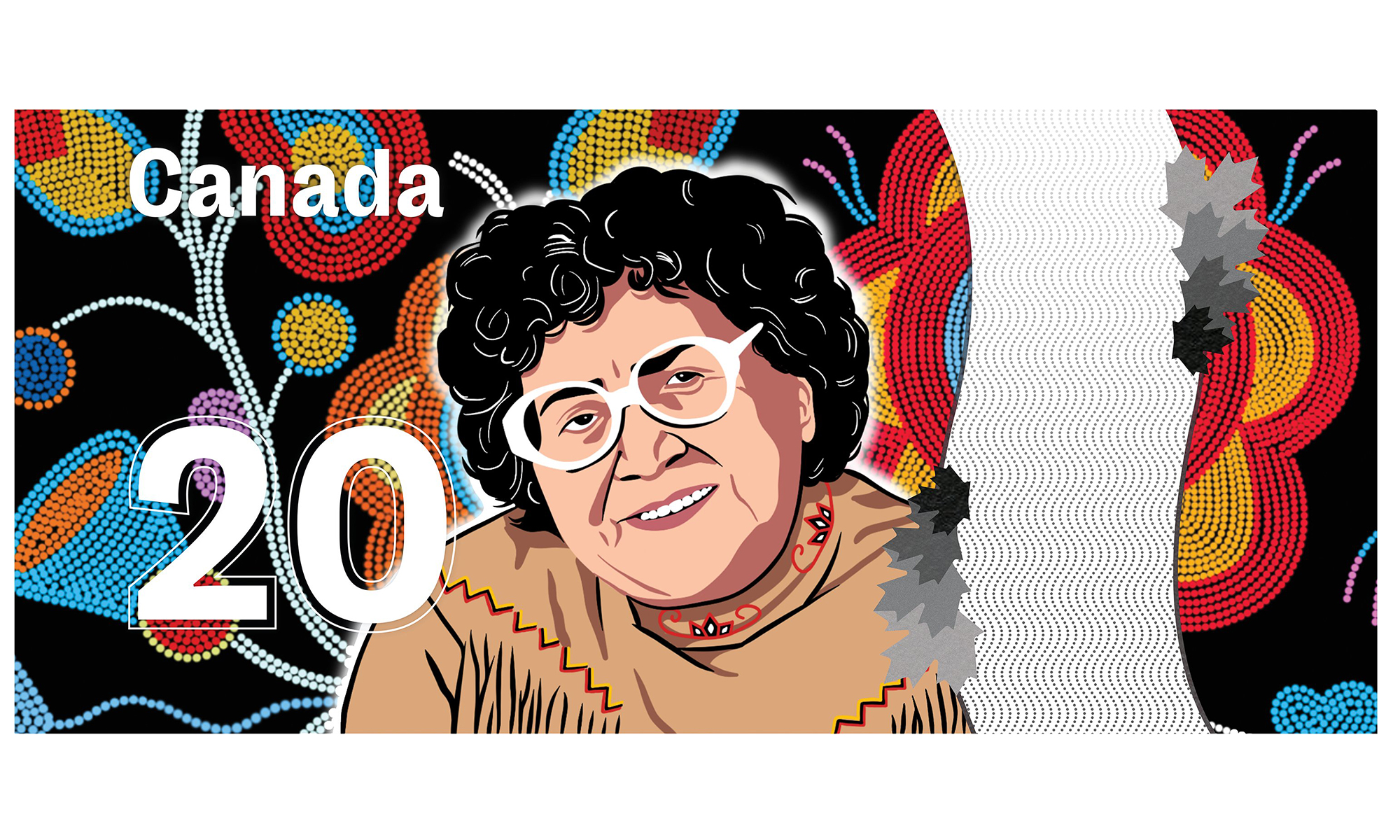 Tracey Metallic, a member of the Listuguj Mi'gmaq First Nation, chose to portray Margaret Pictou, a trail-blazing leader who was the first woman chief in the history of New Brunswick. Pictou joined the Royal Canadian Air Force during the Second World War, and later went to college and helped teach the Mi'kmaq language in schools.
"At school, she was not allowed to speak her language," said Metallic. "But when she went home, her parents insisted that she didn't come home speaking English. 'You're going to speak our language, because it's important, it's part of who we are,' so she did that."
Sharing stories of inspiring Indigenous women and their contributions to history is every bit as vital as shining a bright light on tragedies and historical injustices like missing and murdered Indigenous women, and unmarked graves at residential schools, Metallic said.
"When you listen to media, there's a tendency to report all the negative things going on," she said. "But on the other side of that too, there are a lot of Aboriginal and Indigenous women in Canada that have done major major contributions to society, that we don't hear about."
Representation, said Metallic, matters more than many people understand; being on official currency isn't just symbolism.
"For hundreds and hundreds of years, we've been put on the back burner and been treated like we're less important. It's not a good feeling to be an Aboriginal person and to be looked down upon and treated 'less than.'" said Metallic. "So having an Indigenous woman representing us like that on a national level I think would be something in the right path, especially with reconciliation."
Beals, who is also of Black descent, couldn't agree more. It's long past time, she said, for a change. Telling inspiring stories isn't a substitute for a full discussion of tragedies which are still ongoing. But they're a way to help complete a picture.
"This happens a lot with marginalized groups. I'm also Black, and even in Hollywood, movies you coming out with an all Black cast, which is amazing, but it's a slave movie. It's really the negative. And that's how people see marginalized groups," said Beals. "People need to know there's so much more to the story. People need to speak that truth. It's not all negative."