First Drive - 2023 Honda Pilot
Community
Feb 06, 2023
by

Lee Bailie
Metroland Media
SEDONA, Ariz. – On the surface, the three-row Honda Pilot SUV is one of the most mundane, uninteresting vehicles the brand has ever built.
One of many SUVs that have crept into most, if not all, manufacturer lineups over the past 20 years, the Pilot has been a solid, yet somewhat vanilla, member of the Honda family. Light on sport, but heavy on utility with excellent reliability and an attractive value proposition. That's Pilot.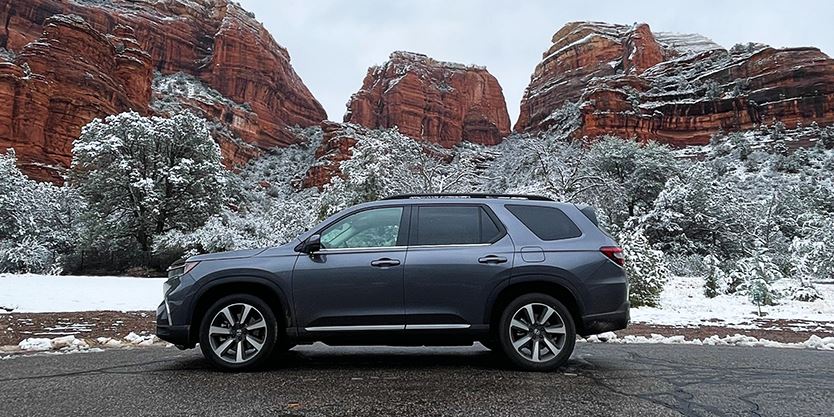 And who can blame Honda for rolling a successful formula over for the past two decades? The outgoing Honda Pilot sold 58,640 units in Canada between 2016 and 2022, an impressive tally for a market that doesn't hoover up big SUVs at the same rate as the U.S.
Like its predecessor, the 2023 Honda Pilot is built on a platform architecture shared with the Odyssey minivan, Passport SUV, and Ridgeline pick-up, and is built in the same Alabama plant.
Powertrains are also shared, but the Pilot marks the debut of an all-new engine, a 3.5-litre double overhead cam (DOHC) V6 that replaces the outgoing 3.5-litre single overhead cam (SOHC) V6. Horsepower is up slightly to 285 (versus 280), but torque remains the same at 262 lb-ft. As for the gearbox, a 10-speed automatic replaces the outgoing 9-speed as the only transmission available. All-wheel drive is standard across the range.
Speaking of range, the Canadian Pilot lineup is as follows: Sport, EX-L, TrailSport, Touring and Black Edition. On that note, during the preview event in Arizona, our group drove U.S.-market models that differ slightly from Canadian offerings. Specifically, the grey Elite model shown here is badged as Touring in Canada, and its brown interior is not available here. Other packaging differences exist, but they're minor and don't impact performance.
Dimensionally, the Honda Pilot is longer, wider and taller than the outgoing model, with a longer wheelbase and wider front and rear track. Like its CR-V sibling, the new Pilot has a longer dash to axle ratio (longer hood), with shorter front overhangs and a flatter beltline. It also adopts its smaller sibling's bigger, upright grille and thin, horizontal LED headlights.
At the rear, the wider track is complemented with new LED taillights, new bumper and tailgate designs and a prominent PILOT word mark positioned at the eyeline.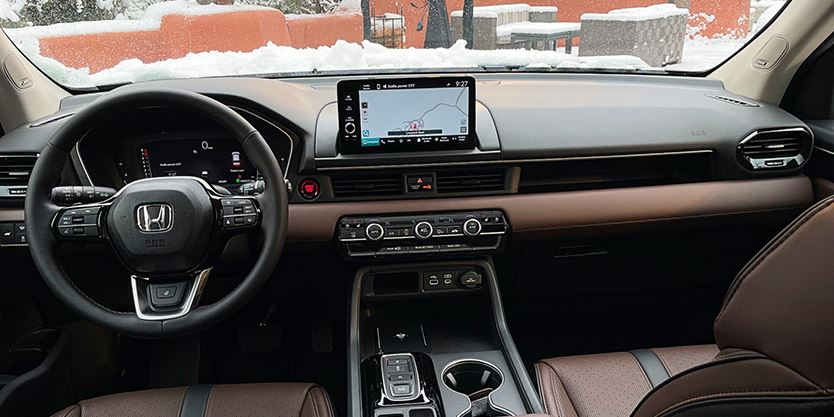 As for features, the Pilot comes well equipped. A 7-inch digital instrument cluster is standard on the base Sport trim, but a 10.2-inch display is standard on Touring and Black Edition. It's a similar story with the multimedia touchscreen, which is only seven inches on the base Sport, but a 9-inch display is standard on EX-L and above.
Other notable tech items include wired Apple CarPlay and Android Auto on Sport, and wireless on all grades above it. A 225-watt seven speaker audio system with subwoofer is standard on Sport, while the same system with nine speakers is standard on trims above, and a Bose Premium Sound System3 with 12 speakers and subwoofer is standard for Touring and Black Edition grades.
As for other amenities, the Pilot comes with USB-A / C connector combo up front, along with two USB-As in the second row. Touring and Black Edition models also receive two USB-A ports in the third row. The two top trims are also outfitted with a Wi-Fi hotspot, and all trims above Sport come with a wireless smart phone charge pad. Honda Sensing, the company's suite of active safety kit, is also standard on all models.
On the seating front, a 10-way power driver's seat is standard on all trims, with memory mirror and seat function standard on all grades above Sport. Seating materials are as follows: cloth for Sport, leather / leatherette (first row / second row) combo for EX-L, leatherette for TrailSport and perforated leather for Touring and Black Edition.
Heated front seats and a heated leather-wrapped steering wheel are standard on all trims. Second row captain's chairs on TrailSport are also heated as are the outboard second-row seats on all trims above Sport. Seating capacity is eight for all trims except TrailSport, while a removable second-row middle seat, with a cargo floor storage section, is standard on Touring and Black Edition. Those two grades also come with ventilated front seats.
The Pilot has always offered acres of space for both people and cargo, and both have been increased for the fourth gen model. Cargo capacity is 144 litres greater behind the first row, up 119 behind the second row, and has increased by 110 behind the third row. In terms of passenger space, there's 61 mm of extra second row legroom, up to 10 degrees of seatback recline in the second row, and 15 mm more legroom in the third row.
For the drive, Honda split our seat time between on-road driving in Elite (Touring) and off-roading in TrailSport.
First up for my group was an off-road trail that wound up to the stunning Chicken Point Overlook, which is located about two miles east of state route 179 and roughly four miles south of Sedona.
The TrailSport unit I drove is outfitted with Continental all-terrain tires mounted on 18-inch wheels, along with front / gas tank skid plating, an extra 25 mm of ground clearance, and an off-road tuned suspension all of which is standard kit. The TrailSport comes with two new drive modes (sand and trail), in addition to five others available on all grades: normal, econ, snow, sport and tow. Of note, Touring and Black Edition also come with all seven drive modes.
Mechanically, the new Pilot benefits from the presence of Honda's second gen i-VTM4 torque vectoring all-wheel drive system, which has a stronger rear differential that can handle 40 percent more torque and has a 30 percent faster response. It can also deliver 70 percent of the torque to the rear axle and up to 100 percent of that to either rear wheel to help find traction.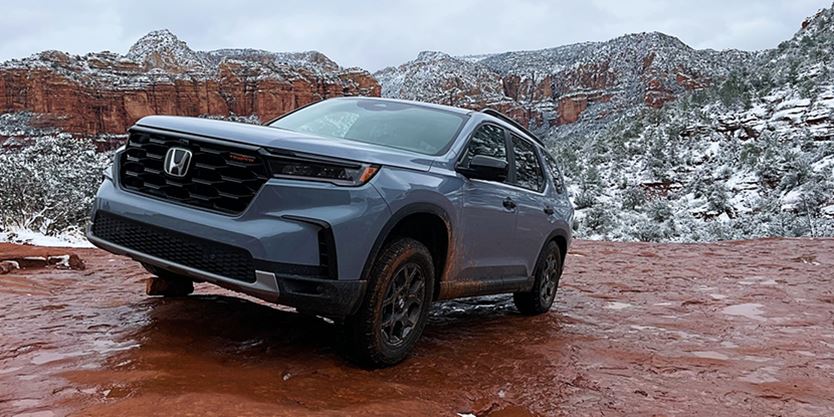 I'll cut to the chase – the TrailSport I drove handled the rocky, muddy, slippery, and steep trail with a surprising amount of ease. I was surprised, pleasantly so, by how confidence-inspiring the exercise was. All it required was toggling the drive mode selector to trail, the occasional use of hill descent control (a first for Pilot) and careful throttle and steering application, as per usual.
Look, the Pilot TrailSport won't be confused for a Wrangler Rubicon or a TRD 4Runner, but it is more than capable of tackling light to moderate off-roading. It's not a rock-crawler, as the development team told us, but it is certainly more than just a pavement SUV.
And the Pilot remains as compelling as ever on smooth surfaces too, as I discovered while driving an Elite (Touring) tester on highways and local roads in and around Sedona. With a quiet and comfortable ride, along with a new, more powerful and fuel efficient V6, loads of amenities and lots of room for people and their stuff, I think the Pilot will remain a compelling option for families.
One might reasonably wonder what the electrification plan is for the Pilot, given that it's 2023 and there's nothing on the table yet, but as I was reminded in Arizona, it's early in the product lifecycle. Read into that what you will.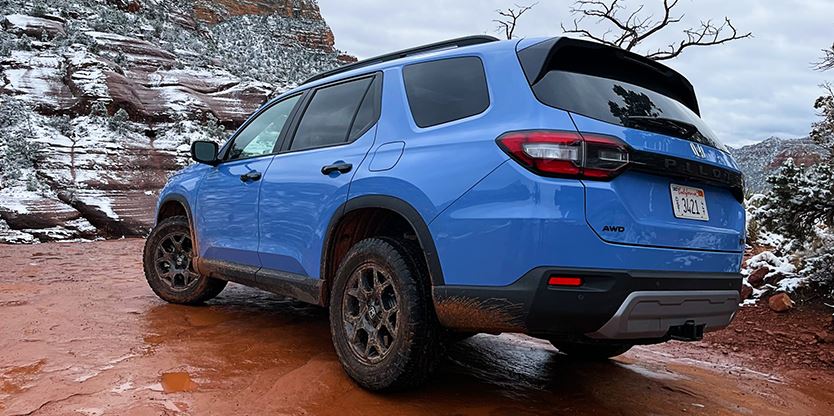 The Pilot, like many other Hondas is also a bit pricey, but its rivals aren't exactly cheap either. Besides what is or is not too expensive lies in the eye of the beholder. Given its handsome new looks, loads of features, and improved off-road capability, I think the Pilot will find plenty of takers.
The 2023 Honda Pilot is on sale now.
The writer attended this media drive as a guest of the automaker. Content and vehicle evaluations were not subject to approval.