Keeping to its Ontario roots, the St. Elizabeth redevelopment will be founded on a fictional storyline based on how local rural towns were developed.
"We're not taking you to Miami or San Francisco or London. We're taking you to Hamilton," said Forrec's executive vice-president, Steven Rhys. "But imagine what the legacy of that area was, so there's a bit of history to it, there's a bit of fantasy, there's a bit of story."
The made-up story goes that a merchant landed above the escarpment in the early 1800s and opened a gristmill. He set up shop for his family, and eventually so did others, after a tavern, small inn, shopping street and workshops came along.
The community's quaint way of life was preserved by a bypass redirecting traffic from the settlement constructed in the 1930s.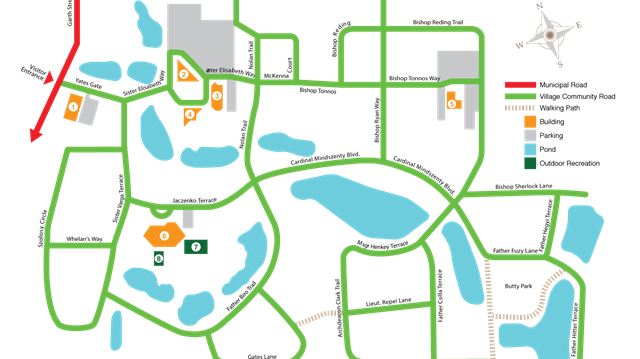 Renovations have already begun on the interior of some of the 558 existing townhouses on the property, and a design laying out their exteriors is complete.
The goal is to have the first exteriors revamped to match the theme within the next three months, DiFruscio said.
Planning has also started for mid-rise buildings, which DiFruscio hopes will be ready by next year.
This part of the complex will remain gated, and residents will still have access to some private amenities, including an indoor pool and bocce courts.
So far, studies have been undertaken to help determine exactly what will be included in the entertainment district and town square — potentially rebranded as St. Elizabeth Mills — which "optimistically" will be open by late 2017, DiFruscio said.
"You're not going to put people in that demographic out to pasture anymore," he said. "They're active, they're younger, they're healthier.
"I think these types of communities are the way of the future."
Ward Coun. Terry Whitehead has been briefed on the plans for St. Elizabeth Village, which he calls "exciting."
The fact that the complex will be themed is part of what Whitehead thinks will make it an attractive destination for community members who live outside of the complex to visit.
"The fact that it's going to give you a sense of time stopped, and it's a village atmosphere — you really don't have that expression or that experience anywhere on the Mountain," he said.
At this point, he said he doesn't see any "major barriers" with the project from a zoning or administrative perspective.
---
Big-ticket building projects in Hamilton
$581 million
St. Joseph's Healthcare West 5th campus redevelopment
$400 million
Maple Leaf Foods meat processing plant on Glover Road
$198 million
Juravinski Hospital redevelopment
$145 million
Tim Hortons Field construction cost
$100 million
CANMET Materials Technology Laboratory building
$72 million
2011 renovation of Hamilton City Hall
$42 million
Hillfield Strathallan College athletic complex and community centre
St. Elizabeth Village by the numbers
Current number of residents: 900
Number of residents once the redesign is complete: 3,000
Number of employees at St. Elizabeth Village: 60
Buildings currently on the property: four-storey, 35,000-square-foot commercial/retail/office building; six-storey, 65,000-square-foot, 100-unit retirement residence; health and wellness centre with an indoor pool; clubhouse with a woodwork shop; 558 garden homes.
905-526-2420 | @NatatTheSpec